Quality Sheep Skin Slippers made with pride in New Zealand
Kiwi Kraft are makers of quality hand made Sheep Skin Slippers, crafted from all New Zealand
wool and sheepskin.
Our Sheep Skin Slippers keep the coldest of feet warm and cosy and you will love the comfy feeling when you slip you feet into a pair. Our Traditional Sheep Skin Slippers are the most popular with Adults, however our newest style is the trendy Scuff Sheepkin Slippers.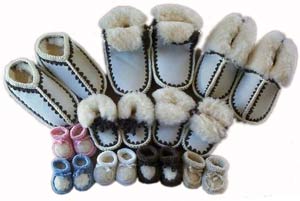 Kiwi Kraft is a small family owned business based in Napier, New Zealand.